SUPERPRALINARIUM BOOK
︎︎︎
IN STOCK






Welcome to our new course on praline design by Andrey Dubovik. This course is aimed at professionals and experienced amateurs who would like to improve their skills in the design of chocolates.

Start anytime, forever 24/7 access.

︎︎︎LEARN MORE











WEEK 1 "EQUIPMENT AND WORKING ENVIRONMENT"
The first week of the course is all about equipment and basic aspects of working with an airbrush and an air compressor. If you are experienced user, we are pretty sure that you won't stay on the Week 1 module for too long and will jump straight to the next module from the very first week.
Week 1 materials will become available in 24 hours after your enrolment fee (59 EUR) is paid. From that moment on, you will have a forever access to this module so you can take your time to prepare everything you need to participate. You can start the course with a coming group or with one of the subsequent groups if you need more time to acquire some things for the course. You will also receive an e-mail from us with a personal payment link to pay for the whole course (930 EUR) and a license agreement to be printed, signed and shared with us before you start.
Contents ︎ Available in 24H After Enroling
WEEK 2 "NEED-TO-KNOW BASICS"

Week 2 is the most important one because you will be exploring the basics you will practice and master throughout the course. In Week 2 module we analyse all the basic elements and steps of creation of moulded chocolates and share how Andrey makes this or that design. It doesn't really matter whether you follow every single advice of ours or not, our goal is to show you THE MOST important concepts of how to get this astonishing shine and deep colour and master different techniques.
All our materials consist of three parts: a video-tutorial, a step-by-step guide and a home assignment. We recommend that you always start with a video-tutorial to familiarise yourselves with the main concepts of a certain design and understand the techniques used in the tutorial. We provide a text block with FAQs below each video. In case your questions aren't covered, you will be able to ask them in the comments section below the text block (or you can contact us – Andrey and LIMA – any time via e-mails). Afterwards, you will be able to get down straight to the work on a design. And this is where our step-by-step guides come in. They will guide you through all the major steps of our video tutorials with the help of photos placed in a particular order and accompanied by short text comments. We suggest following the same steps described in our materials. Your goal is to repeat after us. If you follow the steps carefully from one stage to the next, you will get the same awesome results. You will basically have the same home assignment every week: to get just as awesome results as in the tutorials.
Week 2 is devoted to a very basic all-black moulded chocolates made in Andrey's signature mould CW1921. You can use any mould for this purpose. Your goal for the week is to learn all the main tricks and to make super shiny black chocolates (or empty shells). Your assignment is to upload photos or videos of your results until the end of the week. This is your goal. In case of failure, we are here to help you and analyse your work issues. So if you share your failure as an assignment, we will do our utmost to assist you until you make it.
Contents ︎ Available on the First Day of the Course
"IT'S ALL ABOUT THAT SHINE"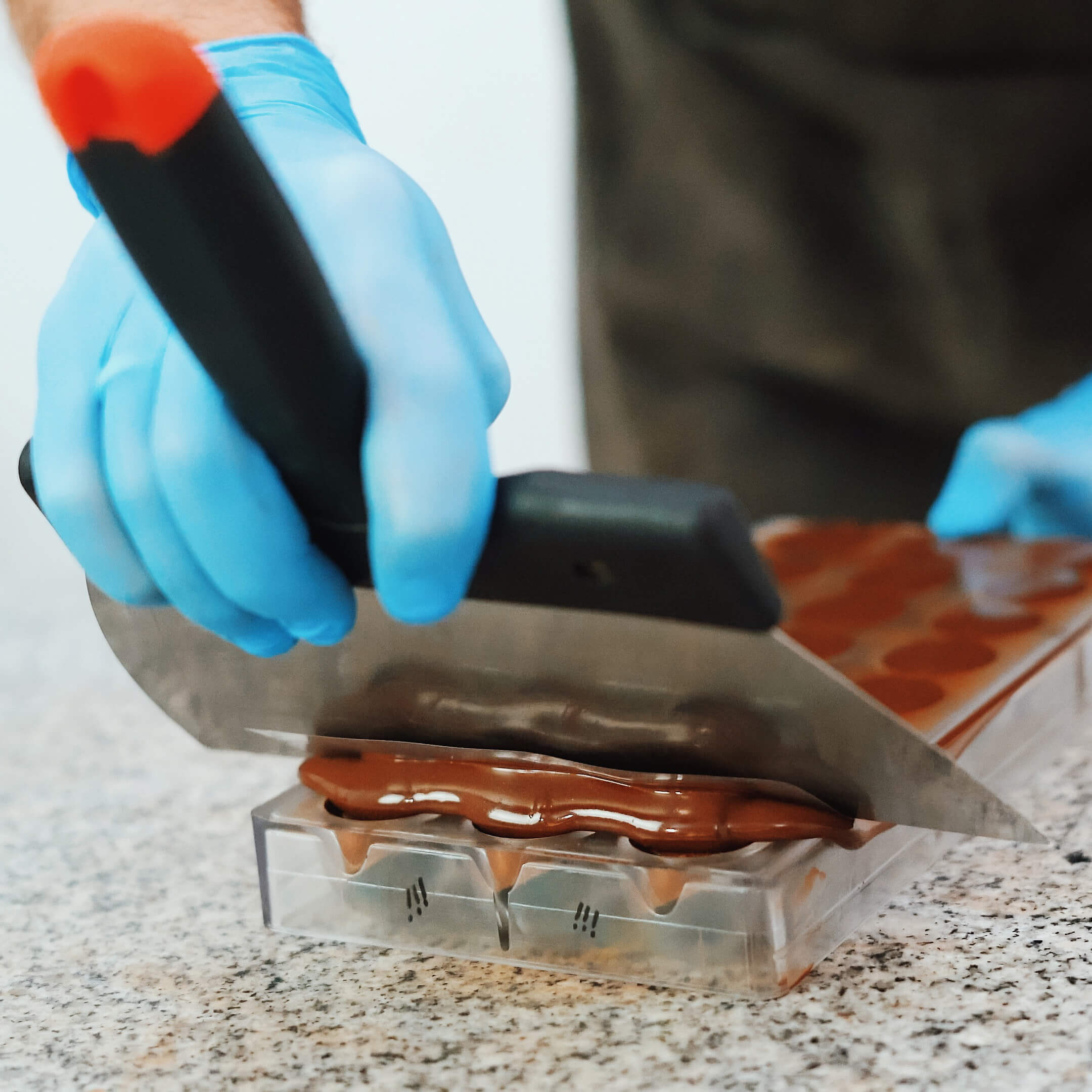 WEEK 3 "FILLINGS AND ADDITIONAL RECIPES"

You might have noticed that the course photos show empty shells, not filled chocolates. We did it on purpose because the goal of this course is to teach you how to make beautiful chocolates (which are generally shells), recreate the designs and master techniques, and not how to cook balanced ganaches, not how to make chocolates that can be stored for months, not how to calculate your own and unique recipes. If you are looking for something like this, attend Alexandre Bordeux's courses on ganaches.
As you remember, the Week 2 module is devoted to the life cycle of chocolates making including sealing and unmoulding. It would be completely weird if we didn't show you anything about fillings. So, we have made a detailed tutorial on basic fillings covering main types of fillings we usually use in chocolates: ganaches, crunchy layers, gels and caramel. In the tutorial you will find out about the main concepts, including the understanding of what an emulsion is and why it is important. We will show you how to prepare basic fillings and how to use them in chocolate shells.
We've included some Andrey's recipes for your personal use. We don't have detailed tutorials on how to prepare them, but you will have the recipes with detailed instructions. It's up to you whether to use these recipes in the course or not.
Week 3 module is about fillings. And since our course isn't about fillings, there is no assignment for Week 3. Only tutorials to work with.
︎
"IT'S ALL ABOUT CHOCOLATE"

︎ Back to top
WEEK 4 "THE ONE WHERE WE FINALLY START WORKING ON ANDREY'S DESIGNS"

Starting from week 4, we will work with the techniques which are most likely the reason why you follow Andrey and why you are here. We begin with pretty easy designs including distinct borders of different colours in a cavity, asymmetric stripes with another colour on the background. In the Week 4 module you will work on three different designs made with the same technique. So we again suggest that you follow our guides to recreate the designs of good quality.
Your assignment for Week 4 is to recreate the designs and share the results. By a word design we mean an exact copy of the chocolates made in the tutorial incl. shape, colour combination and technique. For learning purposes, it's very useful to recreate the exact same designs as they are showed in the course without significant changes in order to understand your weak sides. But we understand that you don't always have the same moulds or accessories to recreate the exact same design. So don't worry because Andrey uses his good judgement when reviewing your works. Our goal is to teach you to use these techniques and to get high quality results, and not to receive photos of the designs showed in the course. So, if you upload all three designs as your assignment, it would be really cool. If you upload only one, it would be fine too and enough for us to say that you have met the course requirements.
︎
"IT'S ALL ABOUT TECHNIQUE"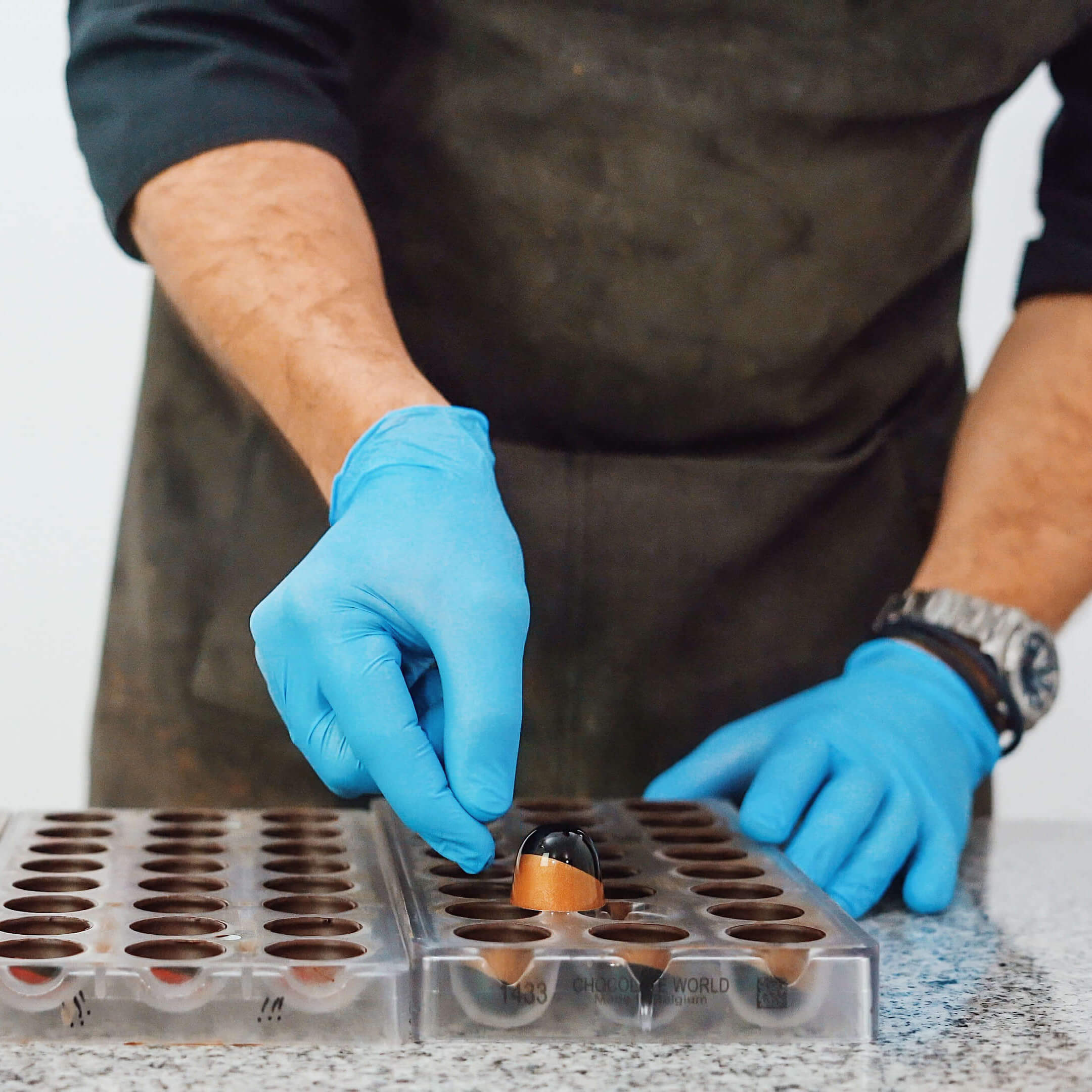 ︎ Back to top
WEEK 5 "CREATION OF ABSTRACT PATTERNS WITH A STAMP"

First modules of the course are pretty simple, but you will be diving deeper and deeper into different techniques and technique combinations with each upcoming course module. The Week 5 module is devoted to a stamp technique and creation of abstract patterns on the surface of chocolates. You will also work on gradients and learn how to control the spray. Your goal for the week is to recreate two or at least one design resembling tree branches.
︎
︎ Back to top
︎
︎ Back to top
︎
︎ Back to top
︎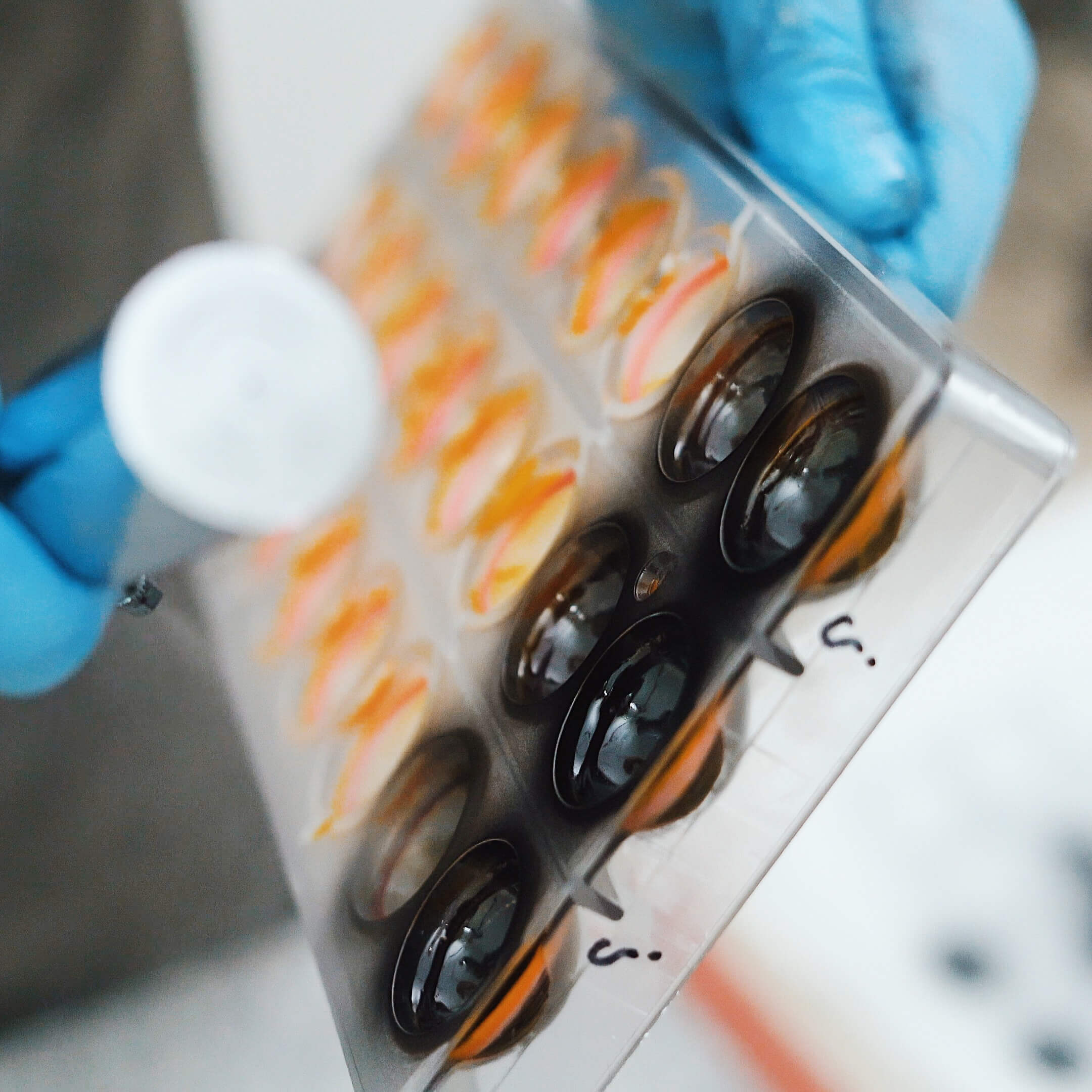 ︎ Back to top
︎
︎ Back to top
︎
︎ Back to top
WEEK 11 "EYE DESIGN"
During Week 11, you will work on the design we call the Eye. It's is one of our signature designs in the whole course. Using the techniques you've been learning for these 10 weeks, you will make three different variants of one and the same design. We will show different approaches to making the same design. It's a difficult lesson, but if you have been working hard for the past 10 weeks, it will be easy for you.
︎
︎ Back to top
︎
︎ Back to top
︎
︎ Back to top
︎
︎ Back to top
For those of you who don't want to move on with the course, you can use the last two weeks to improve the results of the course. You can contact us for help, to resolve the issues left and receive support.
︎
︎ Back to top
This week is the last one. That's it. Now you know everything.
︎
"IF YOU KNOW YOU KNOW"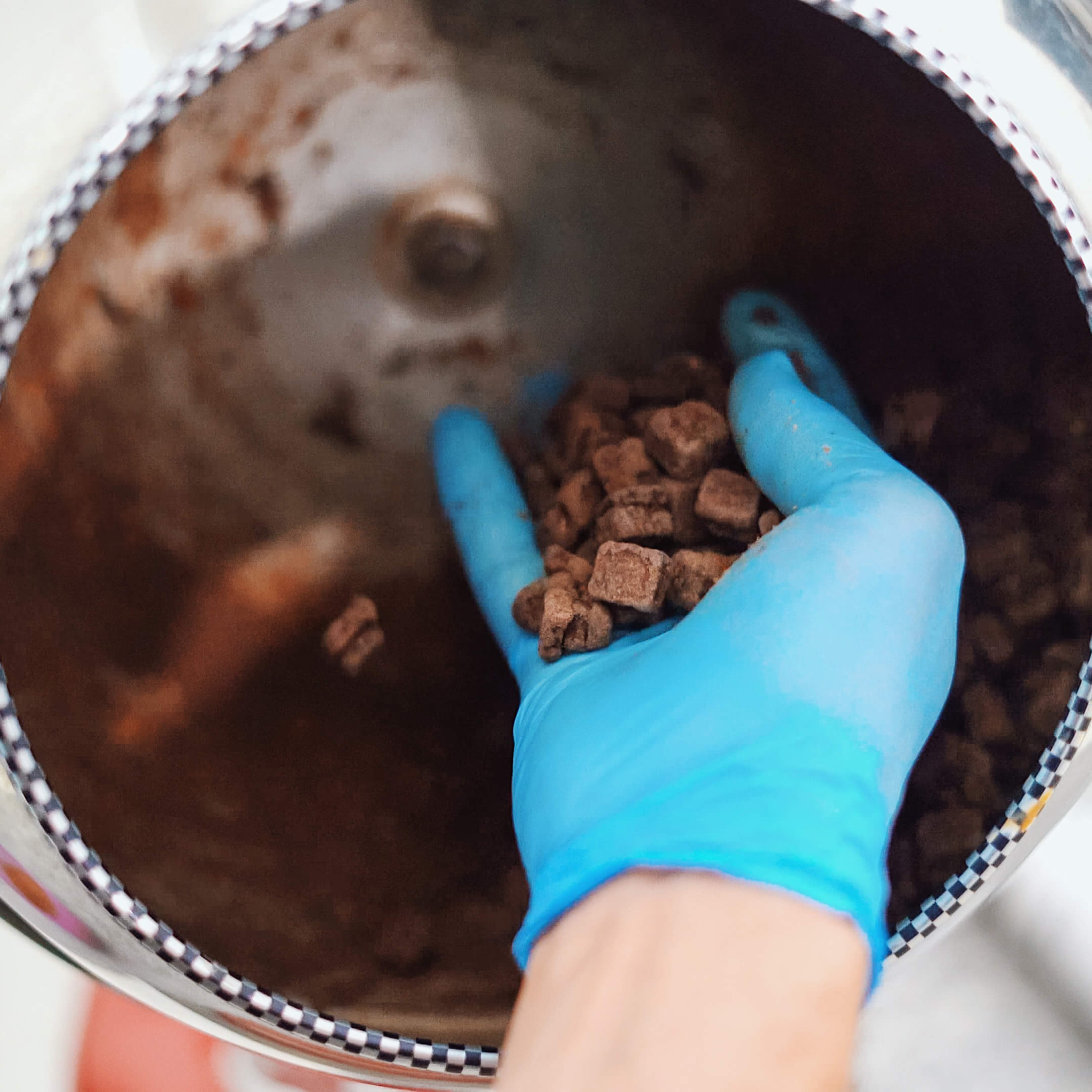 ︎ Back to top
Those of you who have passed the course, submitted all 14 assignments for 14 modules will get a certificate of the course completion. Those of you who haven't passed the course won't get a certificate. It is up to you whether you want to get this certificate or not, we understand that there are lots of people who just want to learn what they need, without submitting results for review. In such case you are still eligible to ask any questions you have during the course. We respect your way to self-learn, so we won't annoy you with any emails or calls questioning where your assignments are. The course is aimed at professionals, and every professional can decide on his/her own if he/she needs this experience or not. But we do believe that the opportunity to work this way by showing the results privately to the author of these designs is very great and unique. We won't share your results without your agreement, no one will ever know that you're taking the course without your agreement. We propose taking the course in a way described above, regardless of who you are: an award-winning chef or a self-directed learning enthusiast. We believe that this course is great experience for everyone. These 16 weeks can change your life drastically.
UNLIMITED ACCESS 😷 COVID-19




All our students (currently enrolled and to be enrolled in one of the future courses) will be granted unlimited time access to the course materials. We believe that it will help people who were placed under quarantine due to the rapid spread of COVID-19 continue their education. This rule works for the Superpralinarium as well.

The full price of the course is 989 EURO. The enrolment fee is 59 EURO, the second fee which should be paid before the course starts is 930 EURO. The enrolment fee isn't refundable.

After you pay the enrolment fee, you will get access to the Week 1 module on equipment for the course. As soon as you are ready to start the course and pay the second fee, wait for the nearest starting date and get started according to the course schedule.




The course is available in:
English, Español and Russian.